This article shall demonstrate the performance difference between Parallels and UTM running Windows 11.
YouTube: https://www.youtube.com/watch?v=5HqtJq7ikPQ
Prerequisites
All tests are run on a 14″ Macbook Pro with the Apple M2 Pro processor (10 Core CPU, 16 Core GPU), 16GB RAM, and a 512GB SSD.
Both virtual machines are set up the same:
8 CPU Cores
8 GB RAM
3D acceleration enabled
It has to be noted that Parallels will only allow this configuration in the "PRO" subscription. The base version will only allow a maximum of 4 cores and 8 Gigabytes of RAM. UTM does not have such a limit. More on that here:

https://kb.parallels.com/123296
I also tested native performance as a baseline. All tests on MacOS have been run with full system resources.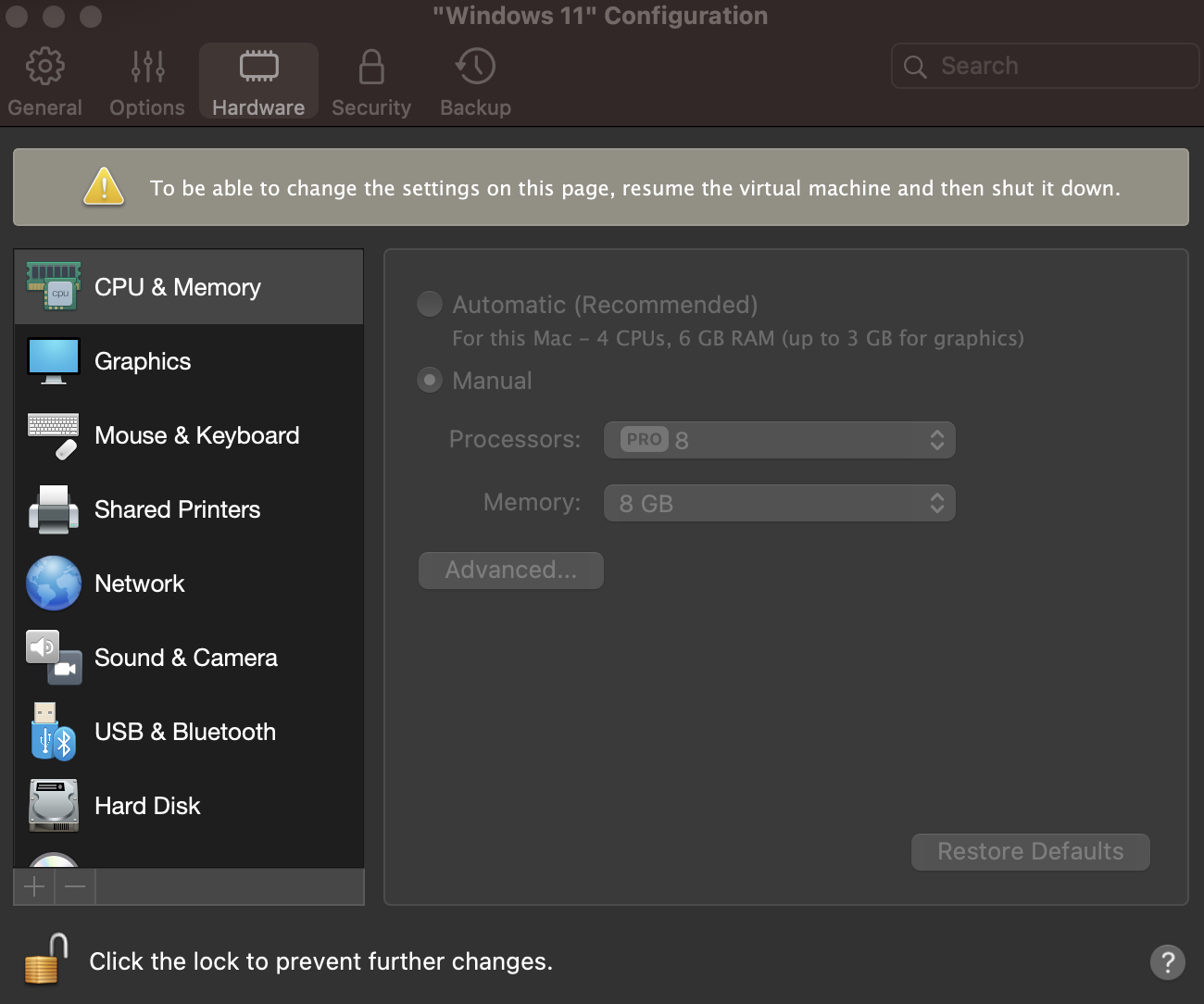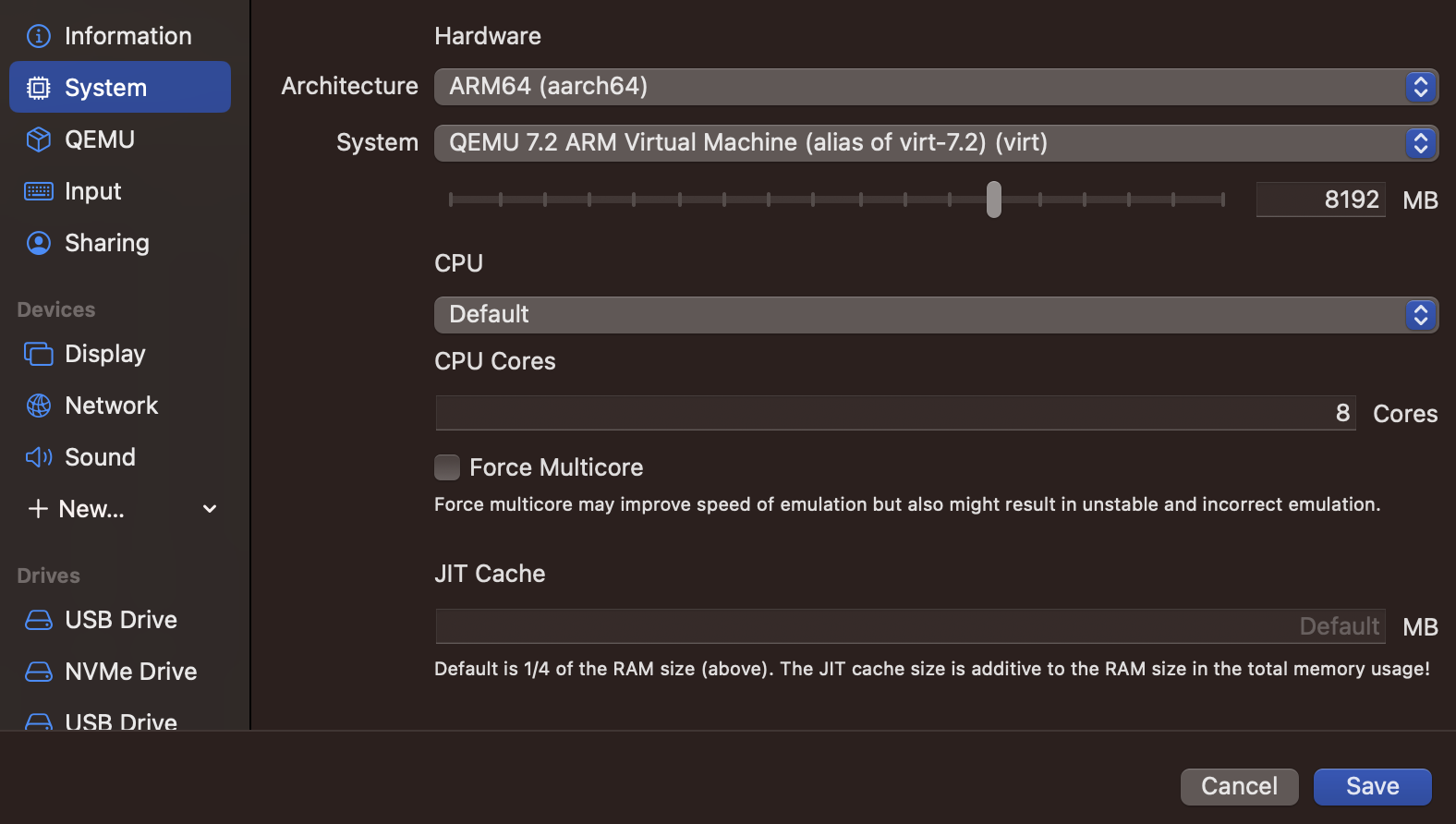 Test Results
Cinebench R23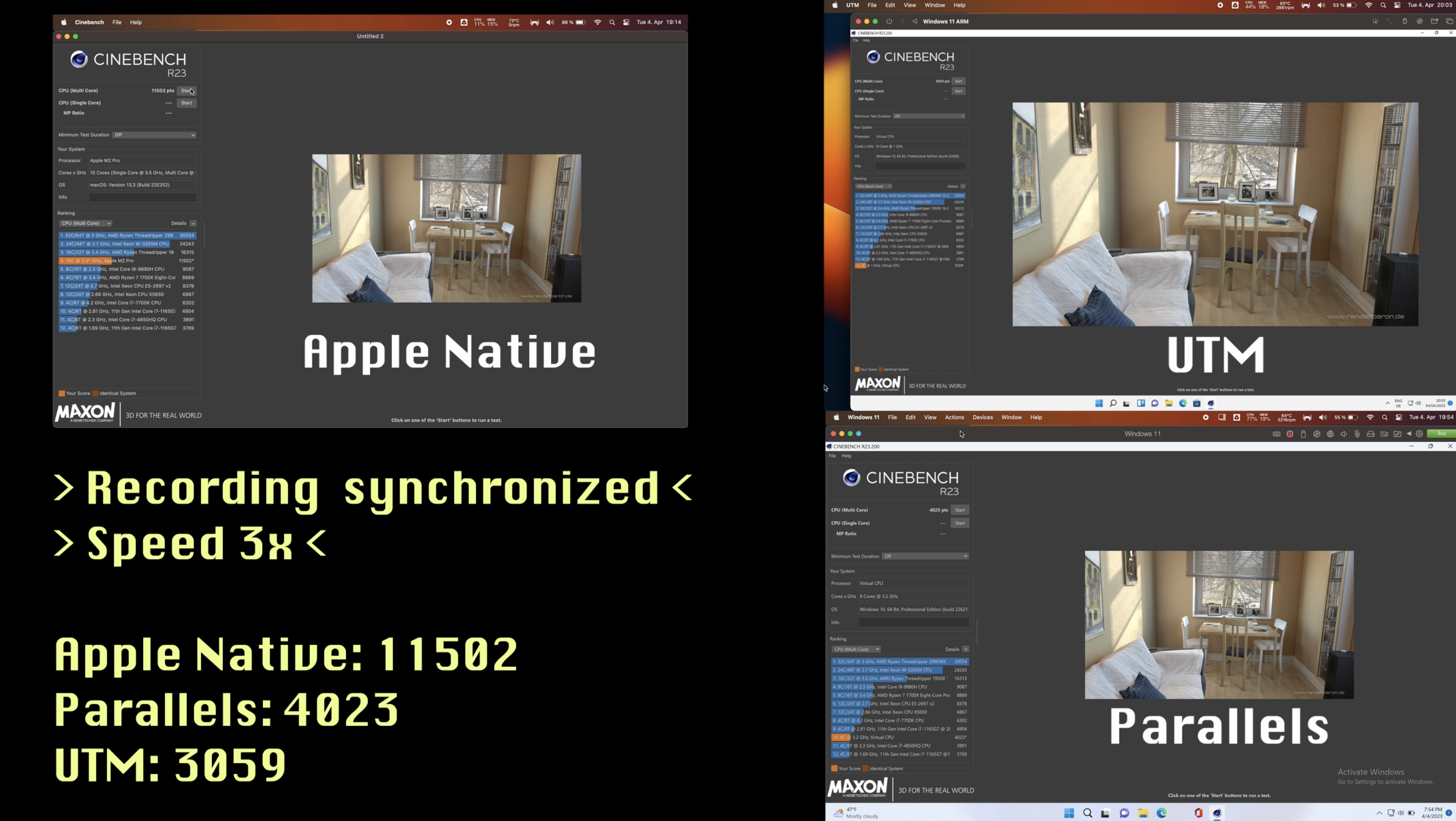 Apple baseline: 11502
Parallels: 4023
UTM: 3059
Blender BMW
Since Windows 11 on ARM will only run x86-based programs, I had to test with Blender 2.8 from July 2019. 2.8 is the last x86 version of Blender. The Apple baseline was tested on Blender 3.5.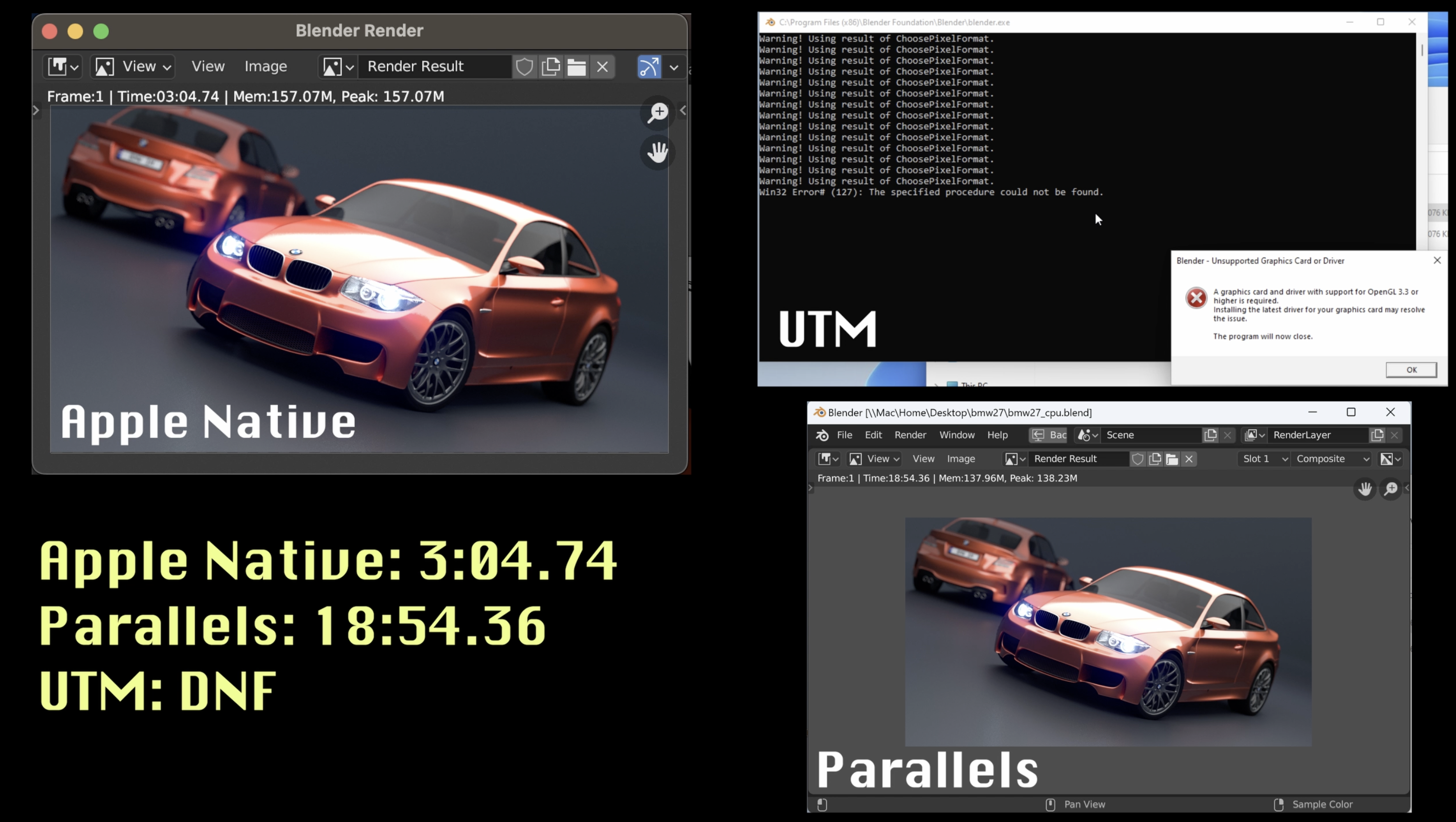 Apple baseline: 3:04min
Parallels: 18:54min
UTM: DNF
Unigine Valley
Quality: Ultra, Anti Aliasing: Off
Note that Unity Valley runs via Rosetta 2 on macOS.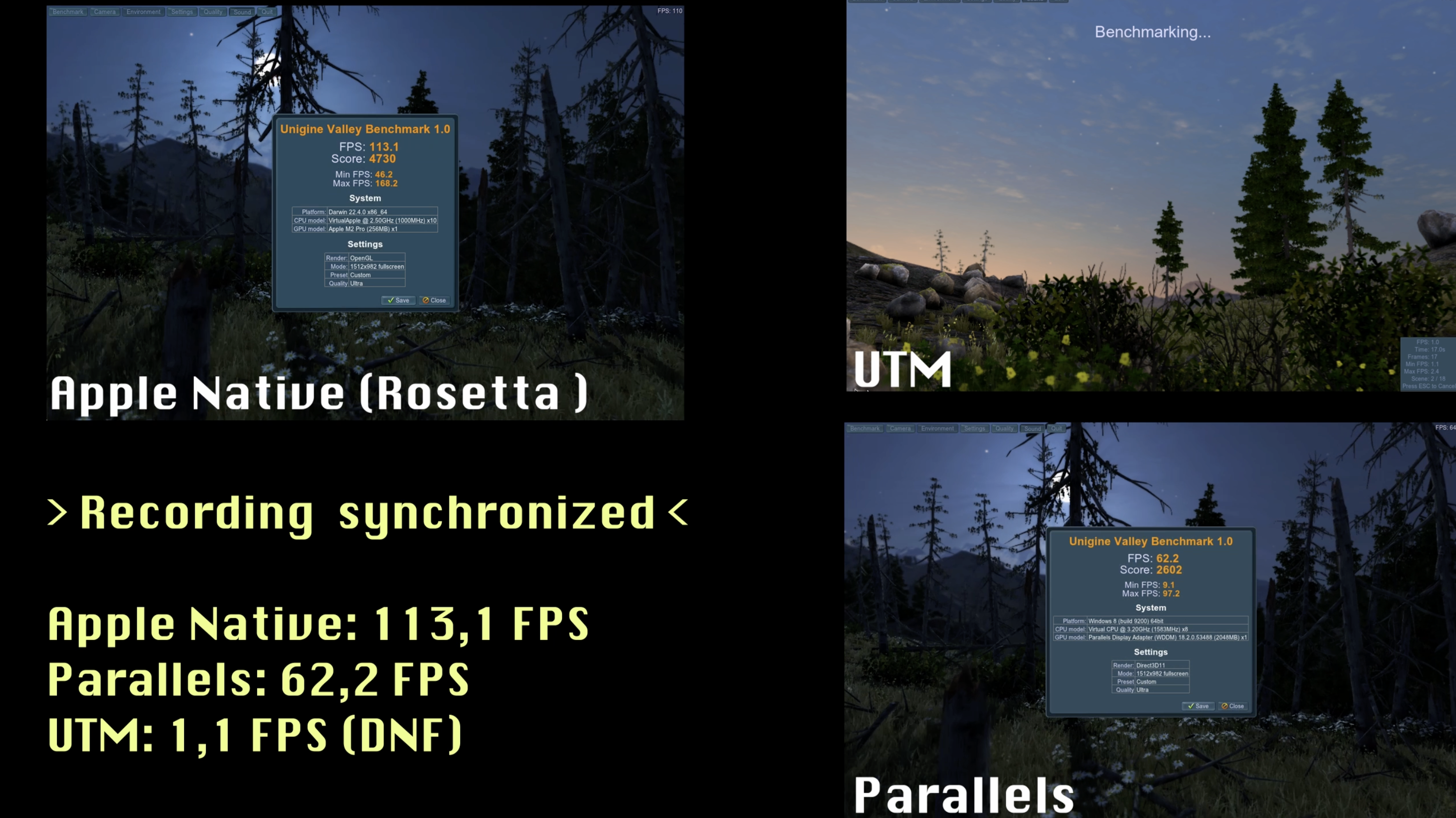 Apple baseline: 4730
Parallels: 2602
UTM: DNF
Would I recommend Parallels?
The answer is a very clear "maybe". Hear me out!
Parallels has the overall better performance and a more polished feel. The creature comforts such as easy access to MacOS folders within Windows are very nice to have. But Parallels also costs a lot of money. The base version of Parallels costs 120€ as a one-time purchase or 100€ as a subscription and only lets you use 4 cores and 8 gigabytes of RAM. The Pro version with more available system resources costs 120€ as a subscription and does not come with a one-time purchase option. Parallels basically holds YOUR system resources hostage if you are unwilling to pay the extra.
UTM on the other hand is not as performant, the installation process is confusing and the creature comforts that Parallels offers are non-existent. Also, as of now, UTM does not include proper 3D hardware acceleration. On the other hand, it is free to use.
So if you are willing to pay for what Parallels has to offer, I would recommend it – Just keep in mind that you have to evaluate how much performance you actually need as the base version does not give you access to all of your system resources. If you just want to tinker with Windows 11 you can absolutely use UTM.